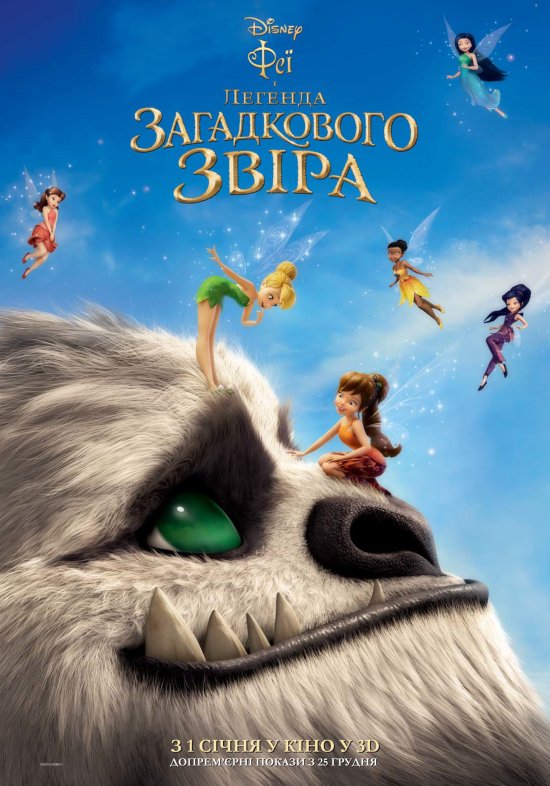 Скриншоты, кадры (Посмотреть)

Оригінальна назва: Tinker Bell: Legend of the NeverBeast
Рік: 2014
Країна: США
Студія: DisneyToon Studios, Prana Studios
Жанр: мультфільм, пригоди, сімейний
Тривалість: 01:16:14
Режисер: Стів Лотер
Актори: Джиніфер Ґудвін, Мія Вайтмен, Люсі Ліу, Памела Едлон, Джесі МакКартні, Анджеліка Г'юстон та ін.
Рейтинги:
---
Сюжет: Улюблениці всього світу чарівні і кмітливі Феї знову з нами. Фея тварин Фауна потоваришувала зі злим таємничим Звіром, який наводить жах на всю Небувалію. Однак тепер вона мусить довести всім, що це добра істота і не шкодить іншим.
---
Формат: 

Якість: BDRip 720p
Відео: h264 (High), yuv420p, 1280x720, PAR 1:1 DAR 16:9, 3135 kbps, 23.98 fps, 23.98 tbr, 1k tbn, 47.95 tbc
Аудіо: AAC, 48000 Hz, 5.1, s16, 320 kbps
Мова: українська
Переклад: професійний дубльований