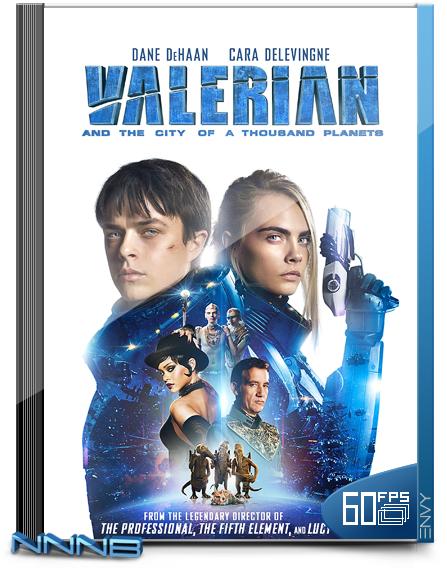 Скриншоты, кадры (Посмотреть)

Оригінальна назва: Valerian and the City of a Thousand Planets
Рік: 2017
Країна: Франція, Китай, Бельгія, Німеччина, Об'єднані Арабські Емірати, США, Велика Британія, Канада
Студія: EuropaCorp, Fundamental Films, Grive Productions, TF1 Films Production
Жанр: бойовик, пригоди, фантастика
Тривалість: 02:16:40
Режисер: Люк Бессон
Актори: Дейн ДеГаан, Кара Делевінь, Клайв Овен, Ріанна, Ітан Гоук, Ален Шаба, Рутґер Гауер, Ксавьє Джаноллі, Елізабет Дебікі, Джон Ґудмен та інші
Рейтинги:
---
Сюжет: Події розгортаються в 2700-му році. Валеріан і Лорелін – космічні спецагенти. Чергове завдання чекає на них на планеті Альфа, яка являє собою суцільне місто, де пліч-о-пліч живуть представники з різних куточків всесвіту. Виконуючи завдання вони мимоволі стають учасниками чи то якогось заговору, чи то афери дивакуватих жителів планети. Щоб там не було, а саме їм належить навести порядок та захистити Всесвіт від чергової загрози.



---
Формат:

Якість: BDRip 720p
Відео: h264 (High), yuv420p, 1280x536 [PAR 1:1 DAR 160:67], 4920 kbps, 60 fps, 1k tbn, 120 tbc
Аудіо: AC3 2.0, 192 кб/с, 48 кГц
Субтитри: українські (форсовані)
Мова: українська
Переклад: професійний дубльований | LINE